The Article:
"A Japanese archaeologist confirmed the existence of 17th- to 19th-century Japanese ceramics in Boljoon town, southern Cebu, the first intact artifacts found in the country.

Dr. Takenory Nogami, a Japanese researcher from the Arita Museum of History, expressed excitement over the discovery of a large dish and a jarlet "emariware" or Japanese porcelain.

"The recovered pieces in Boljoon are unique because it is still intact in the aquare," Nogami told reporters in the Museo sa Sugbo last Saturday.

The pieces were discovered in 2009 through an excavation project of the Sumitomo Foundation-funded Boljoon Archaeological Project conducted by the University of San Carlos (USC) with the National Museum of the Philippines."
Source:
Japanese porcelain found in Cebu excavation
Read more about it:
http://cebudailynews.wordpress.com/2011/05/30/ancient-japanese-pottery-in-boljoon-town/
http://newsinfo.inquirer.net/10434/ancient-japanese-pottery-in-boljoon-town
After reading this article I was curios to see what exactly Japanese porcelain looks like, and this is what I found:
I then discovered a brilliant site about
Japanese Porcelain marks
over here:
Click Here
I found some great information and pictures: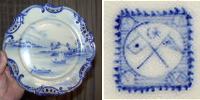 "Mark: Crossed Imperial Chinese and Japanese flags with the Turkish crescent moon and star in-betwen, refering to Mr AA Vantines business relations with these three countries. Tentative date: c. 1910-20's."

"Mark: Mark:
Aoki
, unknown meaning possible a family name. Porcelain made at Arita kiln. Bowl. Diameter 12", height 5"."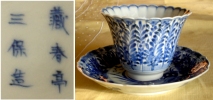 "Tea cup and dish with underglaze blue and white decoration in imitation of Chinese
Kangxi
period (1662-1722) porcelain. Mark: "
Zoshuntei Sanpo Zu
"Zoshun (shop) Sanpo Made (made by Sanpo). Good quality, mid 19th century, Japanese export ware. Mid 19th century."
I wouldn't mind a Tea Cup like that!
There are tons more on the
website
.
I can see myself looking for Japanese Porcelain Marks whenever I'm at a Flea Market!