Prehistoric creatures discovered in huge Indian amber haul
Fossil hunters find 150kg of amber in Gujarat province containing over 700 arthropod specimens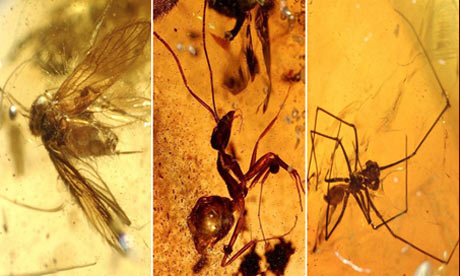 Hundreds of creatures have been found in amber (150kg) excavated in western India. These creatures include ancient bees, spiders, termites and ants etc. More than 700 arthropods have been identified.
"They are so well preserved. It's like having the complete dinosaur, not just the bones. You can see all the surface details on their bodies and wings. It's fantastic," Rust told the Guardian. The remains of two praying mantises were also found.

Michael Engel, curator of entomology at the University of Kansas, said: "What we found indicates that India was not completely isolated, even though the Cambray deposit dates from a time that precedes the slamming of India into Asia. There might have been some linkages."
Sources:
http://www.guardian.co.uk/science/2010/oct/25/prehistoric-creatures-indian-amber-haul
http://news.yahoo.com/s/afp/20101025/sc_afp/usindiapaleontolgyasia_20101025230555;_ylc=X3oDMTEwODNhcGlyBF9TAzIwMjM4Mjc1MjQEZW1haWxJZAMxMjg4MDUwNjc4
http://www.bbc.co.uk/news/science-environment-11618809
Demystifying the history of vampires

The Penn Museum hosted a discussion on monsters in the Ancient World
.
See article here: http://thedp.com/article/demystifying-history-vampires